Standard Mass Conveyance and Short-range conveyance
Summary
Low Pressure Pneumatic Conveying System (pressure type) is a general pneumatic convey system to convey powder and granular materials at low pressure with a Roots blower.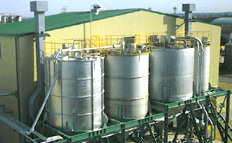 Feature
This system is used for standard short-range pneumatic conveyance.
It is suitable for mass conveyance.
It is suitable for conveying materials from multiple places to one place.
Application Specification
For conveying resin pellets
For conveying cement, boiler ash, ash, and coal dust
Please feel free to contact us if you have any questions or need advice.
Contact Form
We also accept inquiries or requests for constructions by phone or fax.
DENKA CONSULTANT & ENGINEERING CO.,LTD.
TEL:+81-3-5543-1651 FAX:+81-3-5543-1660