High Flow Bulk Carrier
High Flow Bulk Carrier performs marine bulk conveyance of powder and granular materials efficiently.
High Flow Bulk Carrier is equipped with High Flow Pneuma to unload the materials onto a land base efficiently.
This system excels at conveying a large amount of cement or fly ash over long distances.
* This system has actual results of conveying cement and fly ash.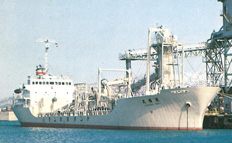 Please feel free to contact us if you have any questions or need advice.
Contact Form
We also accept inquiries or requests for constructions by phone or fax.
DENKA CONSULTANT & ENGINEERING CO.,LTD.
TEL:+81-3-5543-1651 FAX:+81-3-5543-1660