Three-phase Fluidized-bed Biological Wastewater Treatment System
Summary
Bio-Dynactor is an innovative waste water treatment system adopting the basic technology of the microorganism immobilization carriers and the three-phase fluidized-bed system, which makes full use of the resolving power of microorganisms. In comparison with the conventional activated sludge process, the performance of this system is 5 to 10 times higher.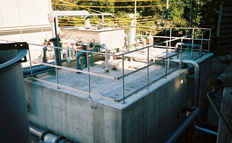 Feature
The carriers are excellent in absorbing the microorganisms and fluidity in a tank.
The water absorption specific gravity of the carriers is 1.0 (for the standard grade).
The system creates circulation easily and has an excellent agitation effect.
The system can be operated under full-load condition.
The carrier can be applied to the modification of existing waste water treatment facilities.
Application Specification
For purification of waster water discharged from chemical factories (such as dye, paint, emulsion, and electronic material factories)
For purification of waster water discharged from a papermaking plant
For purification of waster water discharged from a food factory (such as box lunch, delicatessen, noodle-making, confectionery, brewing, baking, and fish processing factories)
For purification of waster water discharged from kitchens (such as a school lunch center, hotel, and buildings)
For purification of waster water discharged from other facilities (such as hospitals and laboratories)